Ben Ezra Synagogue History
Egypt is the home of many extraordinary artifacts from many eras and beliefs such as Judaism, One of these beautiful monuments is the Ben Ezra Synagogue which is located right behind the Hanging Church which it's rumored it is the place where the box of baby Moses was found by the pharaoh's daughter. The synagogue holds quite a history and significance as it was originally a church called El-Shamieen before it was bought by Abraham Ben Ezra in 882 A.D for 20,000 dinars from the Copts to pay for the annual taxes during the reign of Emperor Ahmed InbTulun and turned into a synagogue. The word "Synagogue" means in the ancient Greek language as "The usual place that Jews gather to worship and receive religious teachings". It was a place of pilgrimage for North African Jews and a holy location for massive festival celebrations.
Ben Ezra Synagogue Facts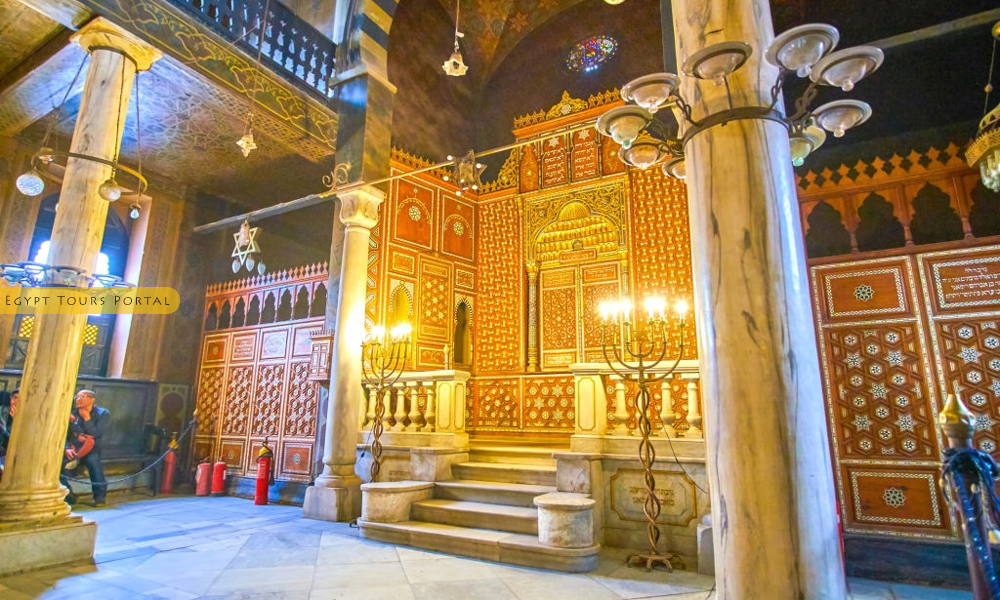 It is the oldest and most important Jewish temple in Egypt as in the 19th century a treasure was found in a hiding place for sacred books and worn-out Torah scrolls containing thousands of rare documents that recorded the history of Cairo's community since the 11th during the medieval era in Egypt which are now stored in England at Cambridge University. It is rumored that the synagogue once held a copy of the original Old Testament. It's considered an important tourist attraction after the departure of the majority of the Egyptian Jewish community in the 1950s after the occupation of Palestine, the founding of Isreal and the free Officer's revolution.
Ben Ezra Synagogue Architecture
Many extensive renovations took place on the current building that dates back to 1892 after the collapse of the original temple. Ben Ezra synagogue is in a basilica style architecture with two floors; the first floor for men and the second for women. The main floor is divided into three parts separated by steel bars and right in the center is an octagonal marble bima "A Platform for Torah Reading". All the decorations like the star patterns, rectangles, and pentagonal patterns go back to the Turkish period, ottoman arabesque and a mixture of Hatai and roman decorations are also found there.
Surround Yourself with More Unique Allure
Ben Ezra Synagogue consider being one of the top Cairo tourist attractions, it attracts thousands of tourists all over the year so check our Cairo day tours if you are in Cairo or explore our Egypt private tours and choose the vacation you and let us arrange you to visit Ben Ezra Synagogue if you prefer.