Nuweiba is a true piece of paradise that reflects the true heavenly beauty of Sinia. The goal of this article is to offer every traveler all the information and facts about Nuweiba. This article was written by a group of skilled and knowledgeable tour guides, tour operators, and travel consultants who know all the facts about Nuweiba.
A hidden gem in the shape of Springing water is located in the holy land of Sinia peninsula offering a portal to cast your eyes on a divine vision of allure and magical are known as Nuweiba where the memories of a lifetime are created to hold the finest images of tropical beauty and wonder. It has acted as a gateway between the Arab world and Asia. It is able to be a magical vacation off the beaten path for tourists who desire a personal and rare travel experience and blissful interaction from the kind and friendly hospitality of the locals. Every moment spent in Nuweiba will be like being in paradise where all the adventure of a lifetime is created.
History of Nuweiba
Nuweiba means "bubbling springs" in Arabic, The name of Nuweiba can be traced to the many water wells located all over its surrounding land. The history of Nuweiba dates place to the early days of the golden Islamic age as a resting and meeting point for pilgrimage trips (haj) from Africa to Mecca and back. Nuweiba first came in existence when it was the site of an old castle built in 1893 which was inhabited by different Bedouin tribes and after the six-day war the occupied Israeli army constructed the city but later on in the 70s when the Israelis left, the town expanded to the point where it became a gateway carries ferries between Aqaba and Jordan.
Location of Nuweiba
Nuweiba lies on a massive flood plain about 40 Squ km (15 sq mi), located between the Gulf of Aqaba and the Sinai mountains, 150 km (90 mi) north of Sharm El Sheik, 120 km from St. Catherine,465 km, and (290 mi) southeast from Cairo. Nuweiba Port was built in 1985 on the Gulf of Aqaba and serves as a ferry port that allows for easy travel between Jordan and Egypt.
Nuweiba is divided into three sectors; The first part of Nuweiba is Tarabin that is found in the northern area which is made of thick grove palms, a shallow bay, and ruins of Turkish for. Tarabin is known for its nourishing and oriental atmosphere including Bedouin-style restaurants and bazaars that enchant guests to fully relax and enjoy a taste of the local atmosphere.
The second section of Nuweiba is the town that was built in the early 70s, It is situated in the center of tourist attractions in the north and the Dunes in the south, in addition to a new commercial area that is under development. The last part is the beautiful oasis of Nuweiba Muzeina which was a rest spot for pilgrimage trips (haj) from Africa to Mecca and back.
Climate of Nuweiba
Nuweiba has a subtropical desert climate, with mild-warm winters and hot summer which provide a pure tropical vacation filled with wonder and magic.
Activities To Do In Nuweiba
Nuweiba is located across 5,097 km and contains a lot of hotels, restaurants, shops, cafes, diving centers, and more which has made the town an amazing tourist destination that has more affordable prices than other resorts in Sinai such as Taba & Sharm El Sheikh. Every traveler will have a chance to enjoy belly dancing, oriental shows, super safari, and taste some delicious Bedouin cuisines.
Tourism In Nuweiba
Between the town and the port of Nuweiba are a strip of modern hotels, restaurants, entertainment centers catering to beach holidaymakers and divers., Tarabin village is just one km north of Nuweiba City and famous for its Bedouin-style camps where affordable huts are available for rent.
Top Attractions In Nuweiba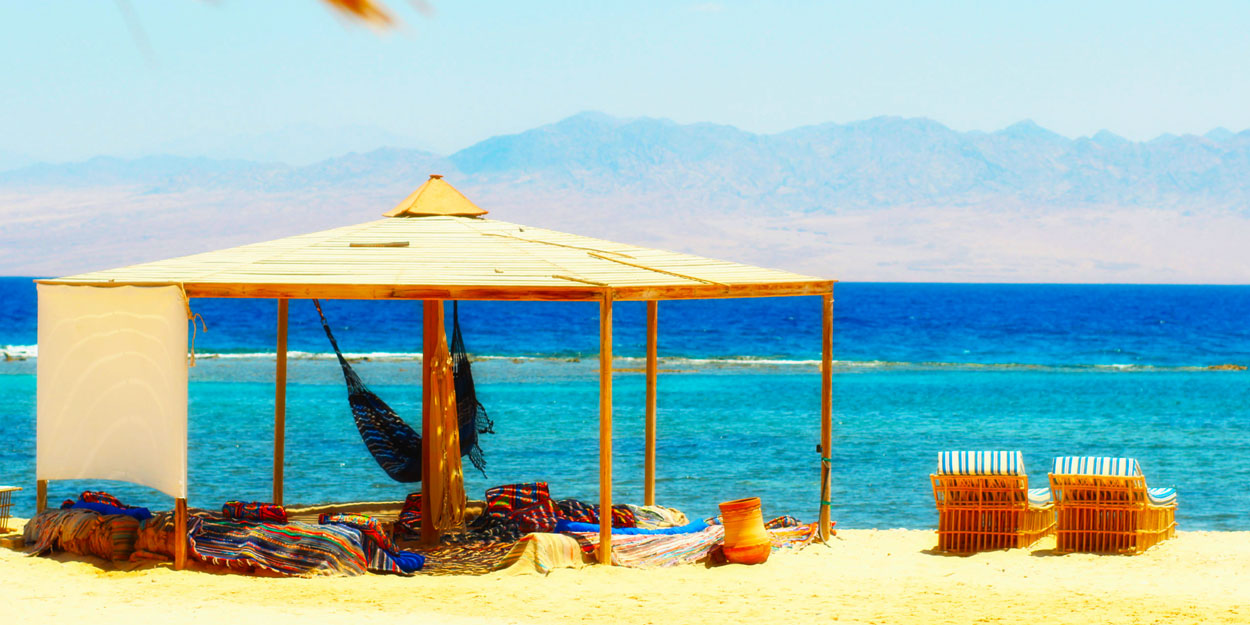 1. Pharos Island
It is located 60 kilometers north of Nuweiba and 7 kilometers south of Taba, famous for its unique site overseeing the Gulf of Al Aqaba, plus you can witness Jordan, Taba from Pharos Island and Saudi Arabia, The island holds the Fort of Saladin considered an architectural gem built-in 1170 A.D and used to protect Egypt against the crusaders and contains majestic untouched outer and inner walls with control towers.
2. The Nabq Protected Area
The Nabq protected area is located midway between the great Nuweiba and Taba, known for its wildlife of amazing animals, reptiles, and rare rodents, plus it has many immigrating birds which use its mangrove trees as their own nests.
3. Abu Galum Protected Area
The Abu Galum is a protected area between the lands of Nuweiba and Taba known for having a unique topography and ecosystem that features an enchanting desert filled with mountains and valleys. It is full of rare colored fish & coral reefs and hosts a huge selection of animals, birds, and rare plants that are not found anywhere else. There are also great diving attractions all around Abu Galum that go the water surface for more than 100 m deep.
Book Your Holiday to Nuweiba
Your time in Nuweiba will be filled with excitement, wonder, and unforgettable memories across an ideal tropical paradise on the holy land of Sinai where the entertainment of a lifetime is lived. Don't miss the chance to enjoy this heavenly site and live the thrill of life.