Easter Holiday 2022, A Miracle For All
Egypt Easter Holiday is the time to create the ideal vacation
⪡ Check All Tours ⪢
Our Company Partners
The main target to our travel agency is to provide the most interesting well-arranged tours to our curious travelers who seek adventure and want to explore every inch of the great Egyptian cities and that is why we have managed many successful partnerships with the top local hotels, governmental organization, agencies, Nile Cruises and with many other partners to achieve sustainable impact in tourism and to get the full satisfaction of our guests at the end of their tours with us.
We are always eager to develop ourselves and do believe in innovation & consistency along with our partners to deliver an excellent experience to our guests from the first moment they send us a request and all through the booking procedures & their adventure with us, and also even after the end of their tour. So our aim is to develop the best and the most successful partnerships with all elements that can perform a truly impressive tour and we also look forward to building a network that covers the whole world. Below are the main elements that have direct effects over the tour and here are our choices to allow you to have the most extraordinary venture.
Airline
Booking domestic flights is the most essential part of the booking procedures that have to be well-arranged and well-chosen. We never book chartered flights to our guests and we mainly book with star alliance domestic flights just like Egypt Air and Air Cairo. There are also other guaranteed airlines that we work with based on the domestic flight availability and the best that match the itinerary and the arrangements of tours. We inform our guests of the available timing of the domestic flights and arrange with our guests the best for them. Here is some information about our Airline partnerships: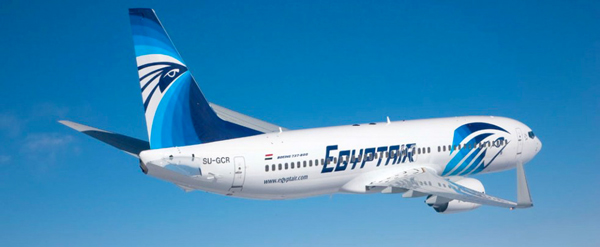 Egypt Air
It is one of the most famous Egyptian national airlines that dates back to 1932 and it has been actually the first airline founded in the Middle East & the 7th one all over the universe. It is also a member of the IATA, ICAO, and AACO. It covers over 80 local & international destinations both in Egypt and abroad via a fleet of 65 modern artifacts.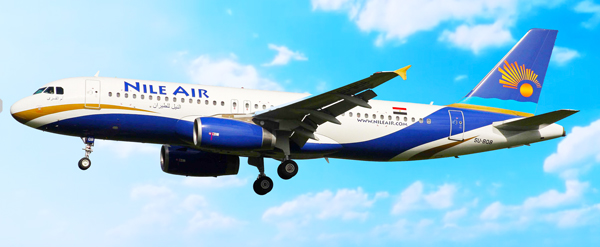 Nile Air
It is a private airline that offers integrated impressive services in arranging domestic tours in Egypt. It was launched in 2011 in March and it belongs to Al-Tayyar Travel Group. It takes Cairo Airport as its main headquarter for its operations. It is the third airline after Egypt Air & the Egyptian International Airlines. Nile Air operated flights to about 20 destinations in seven countries in Africa, Europe, and the Middle East.
Air Cairo
It has been established in 1996 and it launched its flights in 1997. Air Cairo operates scheduled flights and it is considered by many, one of the strongest low-cost airlines in Egypt. It cakes also Cairo Airport as its headquarters and similar to Egypt Air, it is a member of IATA, ICAO, and AACO. In fact, this airline is owned by Egypt Air with a percentage of 60%, 20% to the National Bank, and 20% to Banque Misr. This airline operates flights to more than 27 domestic & international destinations over 16 different countries.
Fly Egypt
This is a private Egyptian airline that was founded in 2014 and started operating its flights in 2017. It offers air services to more than 34 destinations in 9 countries with the best reasonable prices. It was many founded to connect Egypt with the outer world with low price tickets to different Egyptian destinations so that travelers get the chance to witness the greatness of the Egyptian landmarks in different cities at the most affordable flights.
Cairo Hotels
Cairo is considered the main destination any tourist head to so that he or she gets the chance to visit the glorious attractions & landmarks located there. So when it comes to the step of choosing the place of accommodation, we mainly focus on the best possible 5* and 5* High Luxury hotels to get the full satisfaction of our esteemed guests after experiencing the facilities & services included in each hotel. Here are some of our hotels that we always choose to accommodate our guests with some information about:
Our 5* Hotels in Cairo
Le-Meridien Pyramids
This magnificent hotel boasts the most hypnotic views of Giza Pyramids and through glancing out of your room window; you will have a look at one of the last remaining ancient Wonders of the World. The hotel is surrounded by some gorgeous garden & it offers many types of cuisines at its international restaurants and it has also an amazing swimming pool & a spa. There are 641 guest rooms & many deluxe suites with comfortable beds & air conditioning. So while being in that hotel you will get the best and the most comfortable stay ever.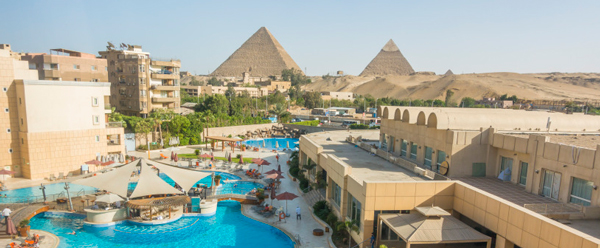 Steigenberger Cairo pyramids
This magnificent hotel is located 2.3 km far from Giza Pyramids and it offers great accommodation with its amazing garden, terrific restaurant, bar, and private parking. Each room in the hotel comes with air conditioning, a flat-screen TV, a kettle, hairdryer, and a wardrobe & a private bathroom. You will be able to see the Great Giza Pyramids from your window and enjoy the amazing services while being accommodated at Steigenberger Cairo Pyramids.
Ramses Hilton
It is located about 30 minutes walk from the center of Cairo and overlooks the Nile River. It consists of 771 incredible rooms with some interesting facilities like high-speed internet access, swimming pool, and private parking. You will be close to the wonderful restaurants, nightclubs, and entertainment venues in Cairo. Its restaurant offers delicious different cuisine and you will get totally refreshed while spending some time in its spa & Jaccuzi area and sauna. There are also massage treatments at the hotel which will allow you to relax the most during your accommodation.
Steigenberger El-Tahrir
It is located in Cairo; about 200 m far from the Egyptian Museum and its rooms are equipped with many amenities that let the guests experience the best possible accommodation including the flat-screen TV, free toiletries, hairdryer, free WiFi, outdoor pool, Sauna, and much more than this as at its property, you will find a gift shop and you will be close to El-Muizz street & Cairo International airport.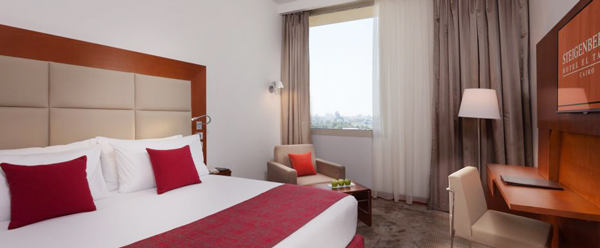 Conrad Cairo
Conrad hotel is a 5* Hotel that offers decorated elegant rooms with comfortable furnishings and its rooms have Nile views from their private balconies. It is located downtown and that is why while being accommodated at the hotel, you will reach easily the commercial & business districts in Cairo. It is only one hour driving far from Giza Pyramids. Among the extensive amenities that you will find there are the health club that includes the latest fitness equipment, steam rooms, sauna & massage services, and much more. While being accommodated there, you will have many choices to choose from wither between the supreme Asian cuisine, modern Lebanese cuisine, and the oriental cuisine. For those who are interested in the nightlife n Cairo, you will enjoy a lot at the hotel casino & bar.
Our Luxury Hotels in Cairo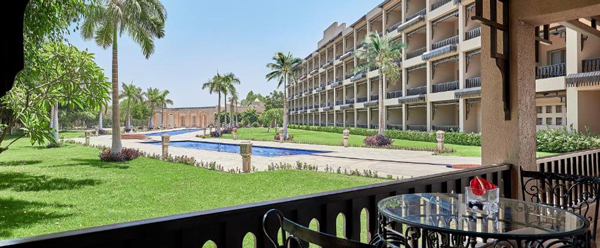 Mariotte Mina House
This hotel is surrounded by green gardens and overlooking Giza Pyramids. It has some amazing decorated handcrafted furniture and you will be able to have your delicious breakfast in the dining room facing the garden. There is a luxury swimming pool in the landscaped gardens and in just 10 minutes, you will find yourself in Giza Pyramids Complex.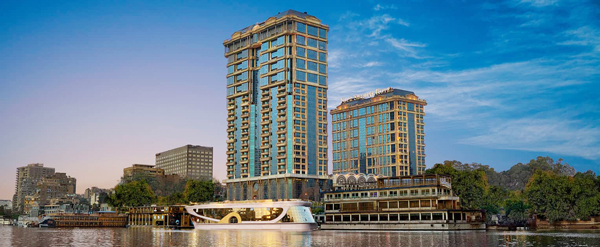 Four Seasons First Resident
While being accommodated in the legendary Four Seasons Hotel, you will be able to enjoy the stylish colonial panoramic Nile / City view from your room that is equipped with a satellite TV & DVD player. There is health & beauty treatment inside the hotel in addition to the sauna, fitness center, and much more incredible amenities. Guests can enjoy the traditional Syrian & Lebanese food that will be served in Aura next to the pool. The hotel is only minutes far from Cairo's Botenical Gardens and 26 km from Cairo Airport.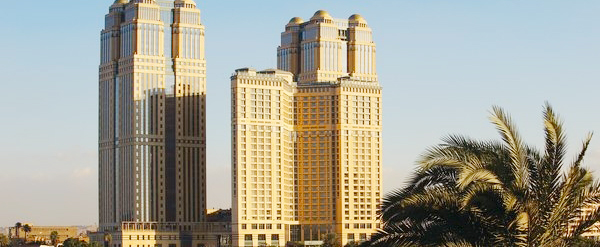 Fairmont Nile
This 5* High Deluxe Hotel features a rooftop pool and it overlooks the Nile River. Its rooms are decorated with elegant art furnishings equipped with interactive IPTV. It also has well-equipped fitness center & business center. You will enjoy its Asian Fusion Restaurant & Lounge & its Italian dining area. It is located 23.5 km from Cairo's airport & only 10 minutes from the Cairo Museum.
Kempinski Nile
This amazing luxury hotel offers amazing well-decorated rooms that overlook the Nile and you will find a wonderful fitness center & swimming pool there. In each room, you will find Wi-Fi, LCD, mini-bar for your Soft Drinks. To get the impression of all of the hotel's guests, the fitness center of the hotel offers complimentary hot tubs, saunas & massage. Its restaurant serves Turkish cuisine and Italian food. It is located only 5 minutes walk from downtown and 25 km from Cairo Airport.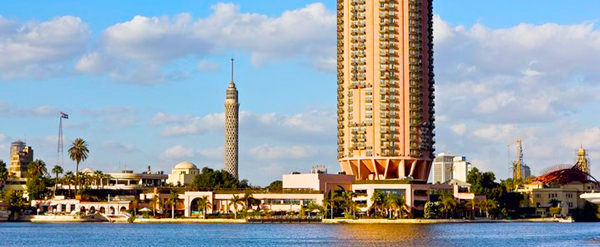 Sofitel Nile EL Jezera
It is located in the city center and it talks only a few steps to reach Cairo Tower and the Opera House. There is free Wi-fi everywhere in addition to having 7 restaurants serving oriental, Moroccan, Italian, and Asian cuisine. It has a swimming pool, fitness center, hot tub & massage packages, hammam, and many other services that will definitely amaze you.
Luxor Hotels
Our 5* Hotels in Luxor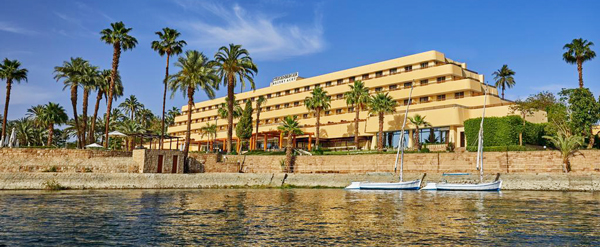 Steigenberger Achti Resort Luxor
This hotel is located in the heart of Luxor on its East Bank and only 11 Km far from the airport. Its rooms have a Nile view and you will be only a few minutes far from the city center. With its fabulous facilities, you will enjoy your accommodation at the most and it is going to be the ideal base through which you can open the gate of the amazing attractions of Luxor including the magnificent Karnak, Luxor, and Hatshepsut Temples.
Steigenberger Nile Palace
Our 5* Hotel is located approximately 10 km away from Luxor Airport and the majority of Luxor's attractions are located 26 km away from the hotel. It has 303 comfortable rooms & suites with either a balcony or a terrace and each one offers a lovely view of the city, countryside, or the Nile. Each room is equipped with a TV, air-conditioner, mini-bar, sitting area, and a telephone.
Maritim Jolie Ville
The hotel features a play area, a game room and even a babysitting area with a venue comprises of 647 elegant rooms. There is also a vending machine & a beauty salon to get the most magnificent accommodation. It is located on the West Bank of Luxor and within only 10 minutes driving, you will find yourself in the Valley of the Kings near Ramses II tomb. There is individual climate control in each room of the hotel and a view over the hotel garden. Surprisingly, the hotel has an outstanding restaurant that serves French meals and a wide variety of cuisine making it a wonderful hotel to be accommodated at.
 Our Luxury Hotels in Luxor
Winter Palace
This is one of the most stunning examples of victorian architecture and it is only a few minutes from the hotel to Luxor Temple. What distinguished this hotel from any other 5* hotel is its history in hosting celebrities throughout the years. It has grand staircases, high ceilings, and lounge areas. You will relax in the hotel and enjoy its French cuisine with the latest fusion dishes from all over the world.
Hilton Luxor Resort & Spa
Hilton Luxor Hotel offers stylish rooms with an uninterrupted view from the edge of the water and luxurious spa facilities & stunning pools. You will be able to enjoy there with the tranquil environment at the classic rooms or its amazing upgraded suites. The resort has 2 beautiful pools and seven elegant restaurants & bars.
Sonesta St. George
This hotel overlooks the Nile and offers marvelous accommodation with free WiFi, health Spa, fine dining, elegant rooms with well-being furniture, and stunning memorable city / Nile view rooms. Guests of that hotel can experience the hotel's sauna and swim in the hotel's large swimming pool.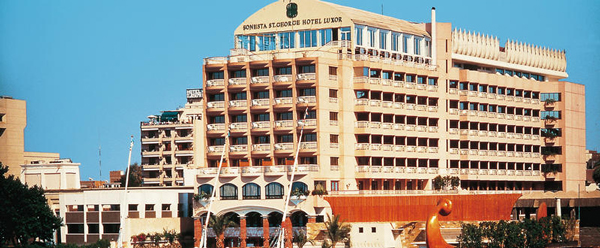 Aswan Hotels
Our 5* Hotels In Aswan
Tolip Hotel
Because of its location on the Nile River, it is considered the most chosen 5* Hotel in Aswan. It has a fully equipped gym, table tennis, and other amazing entertainment options like cinema, bowling, and others. Each room inside this hotel has a balcony, a TV, Minibar, and an en-suite bathroom. There, you can enjoy the wide variety of buffets and cocktails are also served at the lobby bar & the Isis Pub. In only 10 minutes, guests can visit the Nobel tomb by a motorboat from the hotel. The hotel is 21 km far away from the airport.
Pyramisa Isis Island
This exotic resort is located right in the middle of the Nile on an island and it has some amazing Nile, city, and garden views. It is located a few minutes sailing to Agha Khan Mausoleum and contains 450 rooms & suites equipped with all comfortable means of accommodation. The hotel also has all modern facilities & A Spa.
Our Luxury Hotels in Aswan
Sofitel Legend Old Cataract
There aren't enough words to describe the legendary 5* Hotel of Sofitel Old Cataract that is located in the Nubian Desert opposite to Elephantine Island. Its deluxe & suites are equipped with modern furniture, private bathrooms, air-conditioning, and that is not all as the hotel has 4 restaurants that serve both oriental & international cuisine. There are also 4 bars that and you will enjoy the most while having your drink overlooking the Elephantine Islands. You will find a Spa & a Sauna at the hotel with a hammam and a hot tub and this is going to be one of the most interesting luxurious experiences
Hurghada Hotels
Our 5* Hotels In Hurghada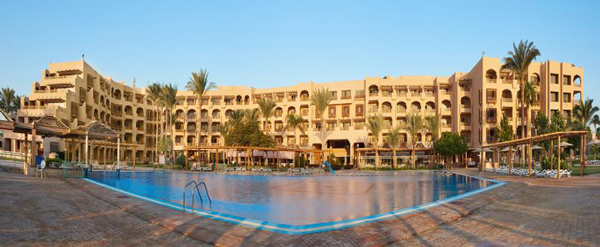 Continental Hurghada
This hotel is blessed with year-round sunny weather and it lies along a sandy beach. It is located only a short distance far from Hurghada center and the facilities and services of this amazing resort assist you in having the most incredible accommodation. Each room has a private air-conditioner with hot & cold drinks, a large window, and a flat-screen TV. While being accommodation in that hotel, you will enjoy its daily entertainment, dining facilities, health club, and it also has a private diving center with a heated pool in winter.
Serenity Makadi Beach
Among our 5* Hotels in Hurghada that we usually accommodate our guests at is the splendid Serenity Makadi Beach Resort. You will find 5 swimming pools in the resort with 3 spacious restaurants and an aqua park for ultimate fun and enjoyment. Each room inside the hotel has a terrace with sea view, modern wood furnishings, satellite TV and tea & coffee facilities. You will enjoy absolute relaxation while having a massage there or having a driving course at a center on the site.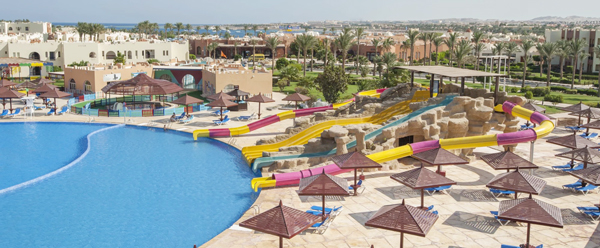 Sunrise Royal Makadi Aqua Resort
This hotel is located at Makadi Bay and offers unique architecture and lush gardens that are enriched with breathtaking pool areas & guest Park facilities. In this resort, there are 6 amazing restaurants that serve Italian, Mexican, Greek, and Asian food. Each room is provided with a minibar terrace or a balcony overlooking the sea. You won't believe that it has 5 swimming pools and guests can exercise jogging at the track or at the fitness center.
Our Luxury Hotels in Hurghada
Marriott Hurghada
Marriot Hurghada is located about 8 km from downtown and 10 minutes driving from Hurghada Airport. It has a private beach and it takes only 10 minutes from it to reach Marina Hurghada. Each room has its own satellite TV, sea view, safe box, mini bar, and a balcony. There is a health club that is located in a separate building and it includes a massage room, dry & wet saunas, and a hot tub.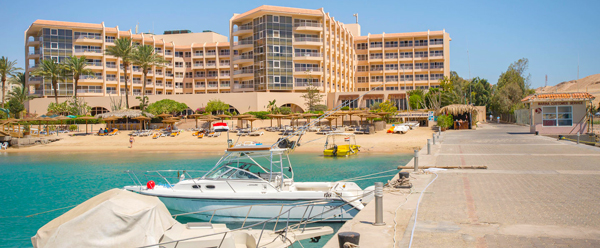 Steigenberger AL Dau Beach
This is one of the highest luxurious hotels in Egypt that provides luxury with its incredible aquatic park & golf course. Each room inside that hotel has its private bathroom, a terrace, satellite, and mini bar. That is not all as its dive cub and aqua center offer the most astonishing diving, windsurfing, snorkeling, and water skiing excursions.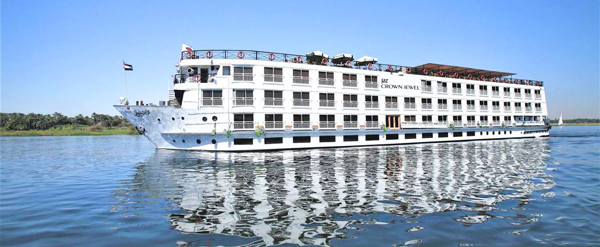 Crown Jewel
For travelers who seek to explore the majesty of some of Egypt's well-know ancient wonders, we highly recommend being accommodated on the board of Ms. Crown Jewel which is a truly relaxing way to have your dream tour. On its board, you can enjoy the lovely swimming pool on its sundeck, get amazed with its luxurious bar & lounge where you will seize the opportunity of enjoying a wide variety of entertainment programs & folkloric shows at night. Its cabins are all well-furnished and the crew of the cruise offer 24-hour customer service to get the satisfaction of all of its guests.
Nile Premium
It has been launched in November 2008 and was renovated in July 2017. It includes 56 amazing well-furnished cabins in addition t 2 ambassador suites and 2 presidential suites. It offers a great combination of elegance taste, and ultimate comfort especially after knowing that each cabin is equipped with a bath tub, mini v\bar, Satellite LCD screen, phone, safe box, hair dryer, and a lot of other necessary facilities & services on board.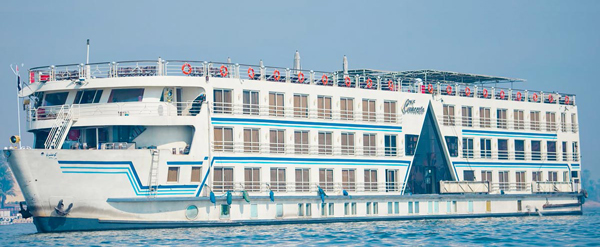 Concerto
This Nile Cruise is classified as the new norm of Egypt's cruises defined by the Egyptian Tourism Ministry. With its 63 deluxe cabins and 4 suites, you will spend the most astonishing vacation ever in the land of Pharaohs. You will find on each cabin, a large panoramic window, safety deposit box, hair dryer, telephone, LCD screen and you will get surprised with the type of services you will get while boarding Ms. Concerto.
Moon Dance
Ms. Moon Dance is another 5* Deluxe Nile cruise with traditions of ultimate hospitality offered to its guests, 5* Nile Cruise services, and the best types of cuisine you can have on board. There, you will find 60 deluxe cabins and 8 luxury suites. It can take up to 132 travelers on its board and provide the most desirable adventure between Luxor & Aswan.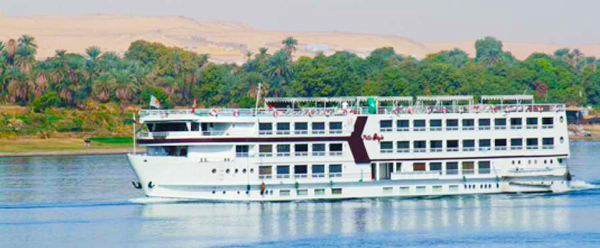 Nile Style
Ms. Nile Style Nile Cruise embarks every Thursday from Luxor and every Monday from Aswan featuring 77 deluxe cabins in addition to 2 ambassador suites and 2 presidential suites. This 5* Deluxe Nile Cruise was launched in November 1999 and got renovated in 2005 and 2015. It was actually built to Rina International specifications and it provides the most comfortable accommodation through its elegant suites, dining room, swimming pool and spacious sundeck.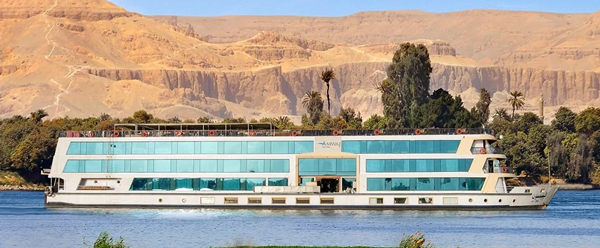 Amwaj
Such a 5* Deluxe Nile Cruise offers high standards of deluxe accommodation with the ultimate comfort, style, and desirable elegance. On board of Ms. Amwaj, you will find 62 deluxe cabins including 2 Royal suites, 12 junior suites, and 46 standard cabins. Each cabin has either twin beds or a king-size bed and accommodation is based upon your request. You will find on your cabin a private bathroom, plasma or an LCD TV, linen changing, sitting area, and dressing table.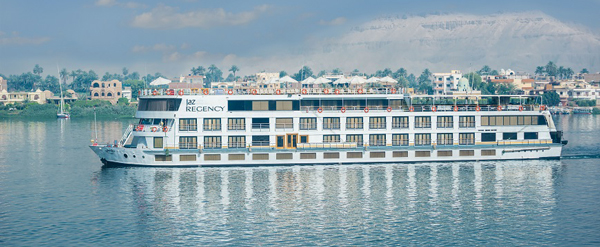 Jaz Regency
You will be able to discover the beauty of the Nile and reach the ultimate enjoyment while visiting the ancient Egyptian landmarks while boarding, Ms. Jaz Regency. On board, you will enjoy 24-hour reception services, internet facilities, fax, and international telephone. You can also experiencing being accommodated at one of its suites that are very comfortable & spacious featuring living areas with plenty of storage space. It also has a sun deck with a large swimming pool and a bar for extra relaxation. Moreover, the cruise has its own Jacuzzi, 50 deluxe cabins, and 2 suites.
Steigenberger Minerva
You can visit some of the most extraordinary amazing attractions in Luxor & Aswan while boarding the one of its kind, Ms. Steigenberger Minerva that offers luxurious cabins with incredible views of the Nile. There is also a swimming pool on its board with a terrace, opulent lounge, and bar. Each cabin on the board of our 5* Deluxe Nile Cruise features wood furnishings with a TV, mini bar, a panoramic window over the Nile and each suite has its own living room & a balcony. You will be able to try a mix of local & international cuisine while being on its board. The schedule of this cruise is every Thursday from Luxor and every Monday from Aswan.
Steigenberger Legacy
This magical 5* Deluxe Nile cruise combines the great hotel services with the cruising luxuries through its modern decorated cabins and amazing restaurant on board. There is 24- hour room service and each cabin has its own satellite TV, mini bar, private bathroom, and many amazing facilities. Fr extra enjoyment, guests can enjoy the cruise's outdoor swimming pool plus having the chance to shop from the gift store located on deck.
Sonesta Nile Goddess
With its luxurious 49 cabins that have sliding glass doors which open to private balconies and 4 amazing well-equipped presidential suites with a private lounge, you will definitely adore every single moment from your accommodation. You will tour around Luxor' east & west banks to see the great Pharaohnic treasures. In addition to having a marvelous chance to visit Aswan's sightseeing that date back thousands of years of majesty and greatness.
Our 5* High Delux Nile Cruises
Mayfair
When it comes to absolute luxury accommodation, Ms. Mayfair will seize the throne with its unparallel 5 elegant decks through which you will enjoy its spacious sundeck to get relaxed, get homey accommodations while being serviced by attentive friendly staff. You will spend the most extraordinary tour between Luxor & Aswan boarding Ms. Mayfair either for 3 nights from Aswan, 4 nights from Luxor, or 7 nights from either Luxor & Aswan.
Farah
You can embark Ms. Farah 5* High deluxe Nile Cruise every Friday from Aswan or every Monday from Luxor. It offers 60 deluxe Cabins & 2 Royal Suits on its board and all of them are well-equipped with cotton sheets, wood furniture, private bathroom, hot tub, and a lot of other facilities. You can have Tea & coffee on its board free of any charges plus being able to have a cooking class for the Egyptian cuisine on board plus a diploma issues by the chef of the cruise.
You will experience also free Wi-Fi connection on its board, telescope on the sundeck, special library, welcome drink, refreshing towels upon your arrival, and much more incredible services that will make from your vacation a one of its kind.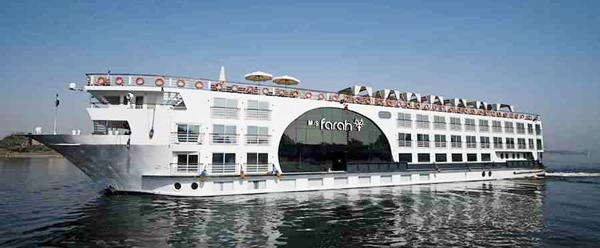 Le-Fayan
Ms. Le-Fayan has been designed in 2010 and succeeded in being one of the most recommended 5* High luxury cruises in Egypt especially with its modern pool, sun deck, lounges, spa, gym, bar, outside dining, and some other outstanding features making it one of the most recommended 5* Nile Cruises in Egypt. There are 57 spacious cabins & 3 comfortable suites on board with glass windows from floor to the ceiling overlooking the amazing Nile landscapes. Cabins & Suites are equipped with a large flat LCD TV, Wi-Fi access, fully stocked mini-bar, closets, electronic safe, drawers, and room service. Suite number 555 is the largest one on board and it has a Jacuzzi, dark blue mosaic shower, and a large dining table.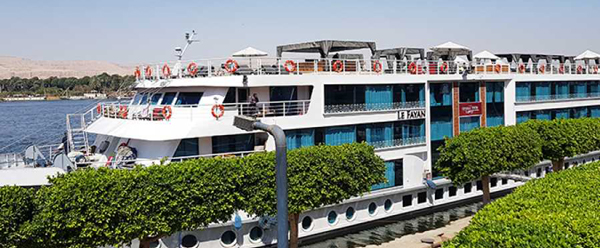 Acamar
To have a cherished memory, you can choose Ms. Acamar to spend your accommodation on its board. It has contemporary decoration with notable classic services. Meals on its board are exquisite and the cruise staff is very friendly and respectful as they seek to attend all of your wishes with efficient calm. It was awarded in 2004 its title "Best boat on the Nile" and received in 2005 the Golden Crystal award. What distinguishes this impressive Nile Cruise from the other cruises is that is features an elevator and it is fully equipped to assist the accessible travelers so you will definitely the best possible services on its board.
Sonesta Moon Goddess
Our 5* Impressive deluxe Nile Cruise offers 49 luxurious cabins with balconies in addition to having 4 presidential suites that have private lounges. Each cabin and suite is equipped with a private balcony, individual climate control, direct-dial telephone, and some other fascinating features that will allow you to have the best accommodation while touring Upper Egypt's landmark.
Tulip Nile Cruise
Ms. Tulip Nile Cruise has been totally refurbished in October 2018. It has the best contemporary deluxe cabins and some spacious areas on board to have fun. There are 42 deluxe cabins on board with panoramic windows and 8 upper deck terrace suites that have private sit-on balconies. All of its cabins & suites offer en-suite bathrooms, TV, mini fridge, hair dryer, large Bootle of water is provided daily in addition to tea & coffee free services every day.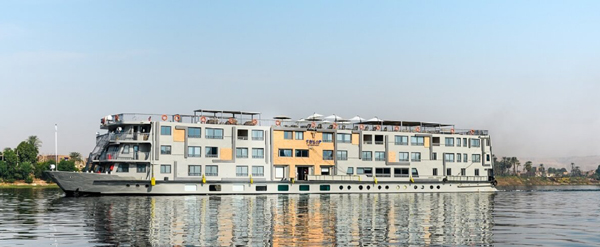 Send A Question That May Interest You
How Good is Egypt Tours Portal?
Egypt Tours Portal prides itself on being the best travel agency in Egypt as proven by our numerous positive reviews.
Once in a lifetime trip
My fiancé and I booked a private 5 day tour of Egypt with ETP starting in Cairo followed by Aswan, Abu Simbel and Luxor. We just got home and continue to talk ...Read More
Awesome experience, awesome guides
This was the trip of a lifetime that I was able to have with my eldest son - an absolutely amazing experience. To be able to actually see the places and artifac...Read More