Cairo city is a wonderful tourist destination that is full of the most astonishing attractions, interesting sites, the best restaurants in Cairo, malls, cafés, and lots of other magnificent things which make the capital of Egypt the first choice for any traveler who comes to travel the Land of Pharaohs. The majority of tourists really love tasting the Egyptian traditional food that is closely attached to the Egyptian culture & civilization.
Some of the tourists are vegetarians or vegans and the main thing they think about before heading to Egypt is what types of vegetarian food they can enjoy and where they can have their meals and that is why we have decided to include in our article some of the most famous vegetarian restaurants in Cairo and their location to find it much easier to get the best meal:
1- Abu Tarek Restaurant
This is one of the most wonderful restaurants all around Cairo since it offers the highest quality of services and meals to its guests. The main meal which is served there and is suitable for the vegetarian tourists is the authentic Koshary. It is a famous traditional dish that contains lentils, vinegar, tomato sauce, rice, macaroni, onions, chickpeas, and almost all of the ingredients that fit the vegans. There are different sizes of that dish at Abu Tarek restaurant that have different prices and the best thing about such a dish is that you are free to season it with hot chili sauce, garlic, salt, or lime as you desire.
The Location of Abu Tarek Restaurant: 16 Marouf, Qasr El-Nil, Cairo Governorate.
2- Taboula Lebanese Restaurant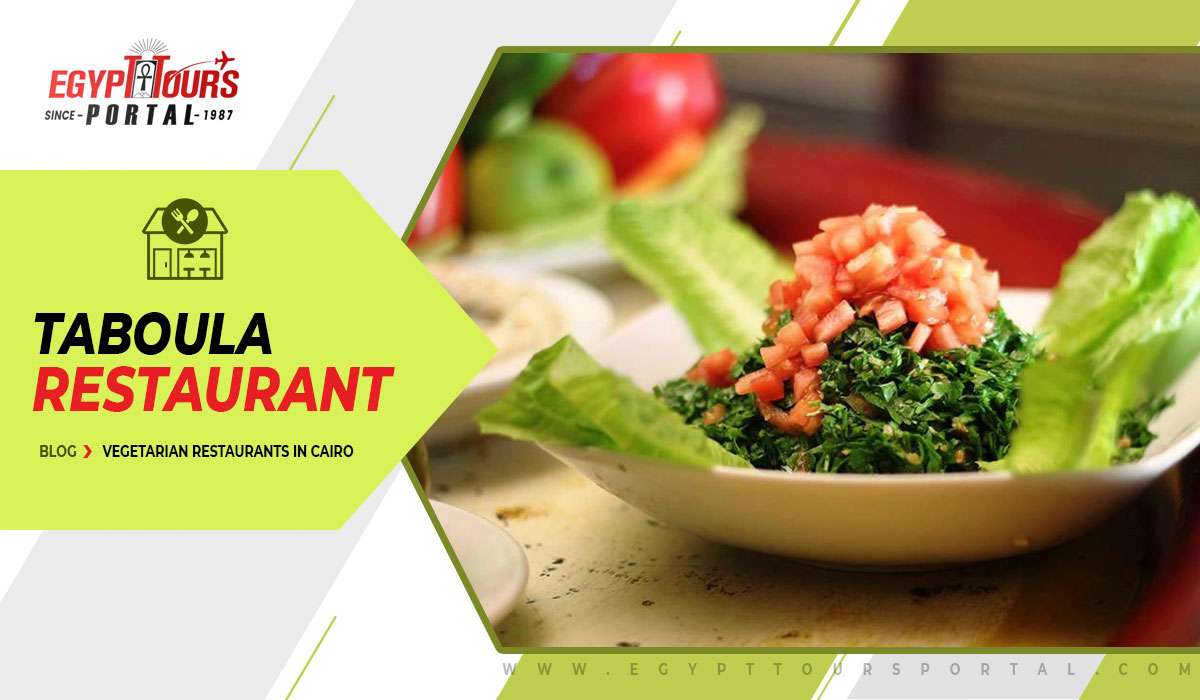 This wonderful restaurant serves some of the most delicious Middle Eastern & Lebanese cuisines. In fact, not all of the meals that are served there are suitable for vegetarians but you will definitely be full of love with their Humus, mixed salads with goat cheese, Fattehs, Shanklish, bread, rice, and similar amazing ingredients that form the best vegetarian dishes. Taboula salad is a terrific signature dish that is served in the restaurant and it is highly recommended.
The Location of Taboula Restaurant: The Latin American Street "Garden City", Qasr El Nil, Cairo Governorate
3- Kazaz Restaurant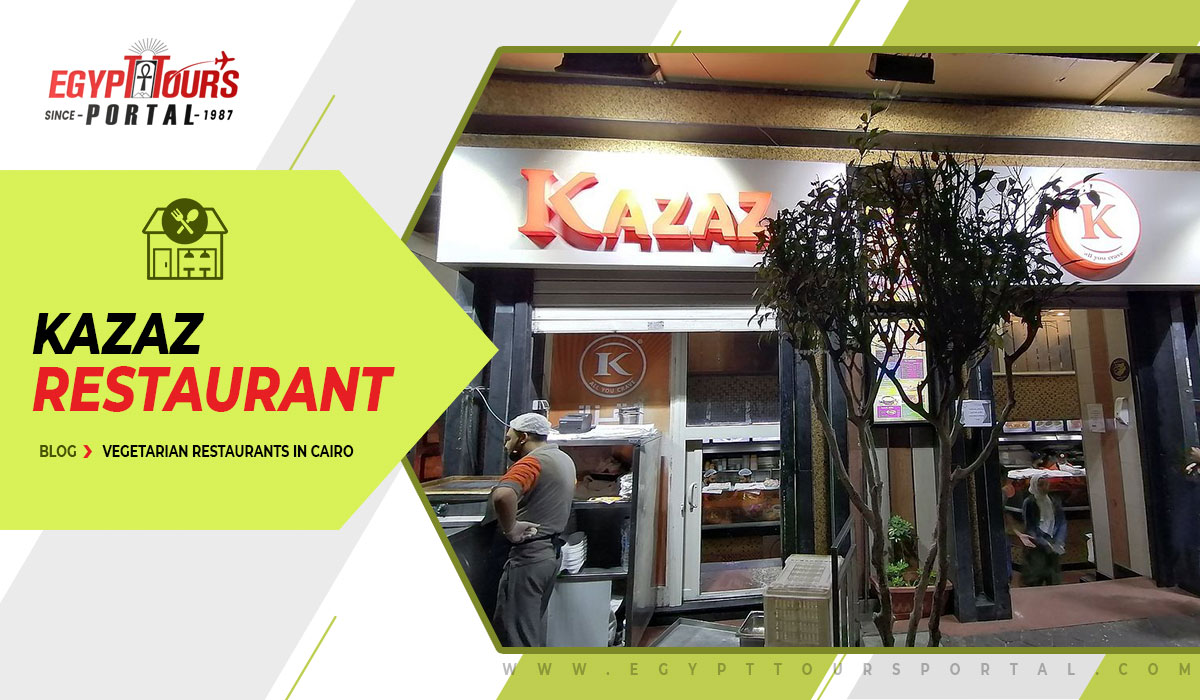 Although this is a small takeaway restaurant that offers limited seats in downtown Cairo, it is a very wonderful restaurant for its delicious Taamya "Falafel" which is a very traditional Egyptian meal in Egypt just like the Egyptian foul "Fava Beans". You can pick your vegetarian meal up as a takeaway meal and then head to the nearest bars such as Stella Bar and Ahwa Bustan. The best thing regarding that vegetarian restaurant is that it opens in the early morning so you will definitely be able to enjoy a wonderful breakfast meal in the morning while being there.
The Location of Kazaz Restaurant: 38 Mohammed Sabry Abou Alam, Bab Al Louq, Abdeen, Cairo Governorate.
4- L'Aubergine Restaurant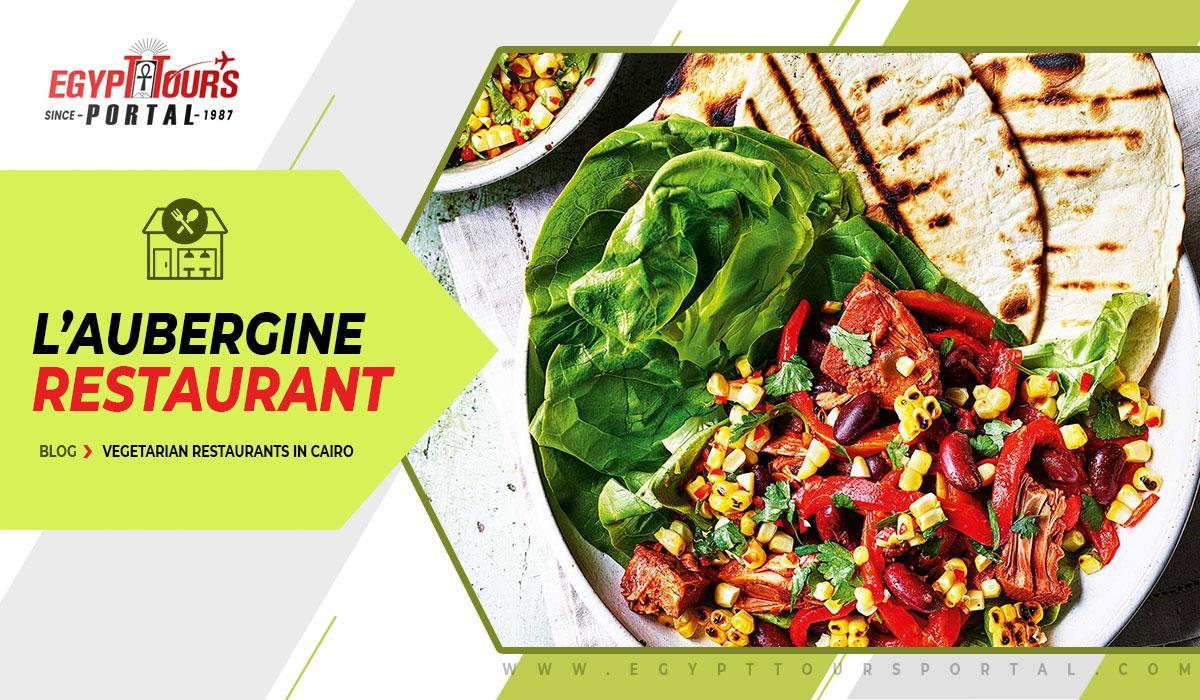 This is the first fully vegetarian restaurant in Cairo. Its atmosphere is really nice and offers a very variable menu full of wonderful popular Egyptian vegetarian meals. Don't get surprised while being there as you will find that their menu does include non-vegetarian food like burgers and similar meals. It is located at 
The Location of Kazaz Restaurant: 5 El-Sayed El-Bakry, Mohammed Mazhar, Zamalek, Cairo Governorate
Egypt private tours will shed some light on great vegan restaurants that offer the sensational unique taste of nature, made from 100% organic & plant-based foods. Take a bite of our incredible tour package & enjoy the magical flavor of the cuisine of Egypt.