The Ministry of Education is responsible for making decisions about the education system with the support of three Centers: the National Center for Curricula Development, the National Center for Education Research, and the National Center for Examinations and Educational Evaluation. Each center has its own turn. On the other hand, the Ministry of Higher Education supervises the Higher education system. Education in Egypt can be classified into 6 main sections:
Nursery (Baby Class)
Kindergarten
Primary School
Preparatory School
Secondary School
High Education Level (University)
There are two types of schools in Egyptian government schools and privet schools. Education in Egypt at the public or governmental Schools and universities is completely free. Here are the basic stages of education in Egypt with more details about each stage:

 1- Nursery Stage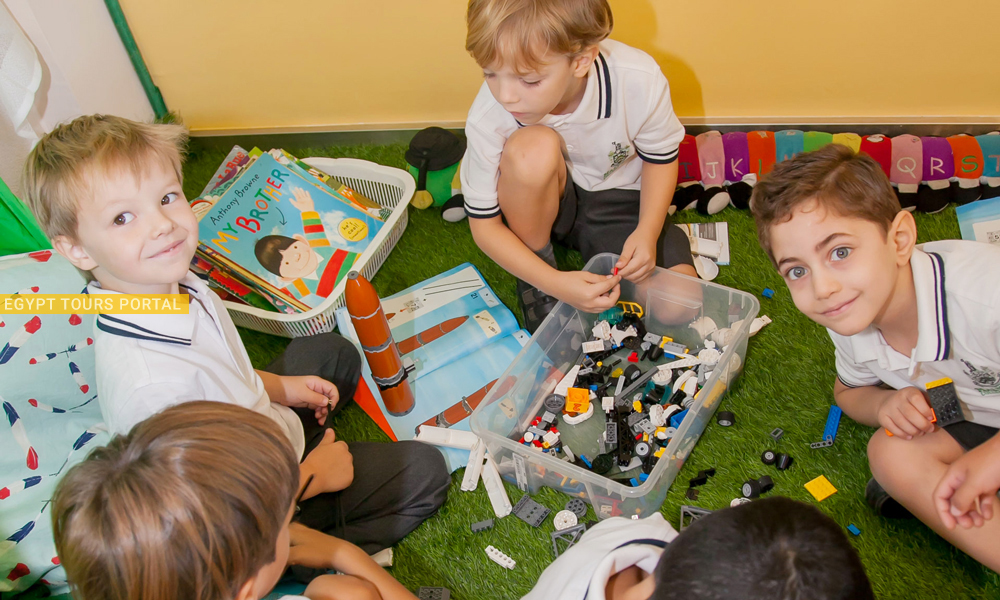 Talking about nursery stage is going to take too much time and visiting one of the nurseries in Egypt is going to add so much fun to your Egypt tours, watching our kids while there are playing and creating new ideas in their life will make your tour in Egypt completely different.
Kids start to join nursery about 2 years and 6 months which is very difficult for both mum and kid that's why if you visit a nursery during the first week of September you can found all mothers are waiting for their kids outside classrooms they refuse to get back home without kids during the first week of study and this stage just takes 1 year then the kids can move to Kindergarten stage.

2- Kindergarten
Our Kids join this stage when they are 3 years and 6 months and this stage takes two years. In this stage kid may ask to recognize the shape of the letters and numbers in Arabic and English by the end of the first year the child became able to write his name. During the second year of this stage, kids are recognizing many short words like names of fruits, vegetables, and animals in Arabic and English.
The Kindergarten management offers so many activates for kids like sports, social, and tour activity. By the end of this stage, kids are able to sing about 20 English songs and know not less than 100 English words besides Arabic and can calculate 2 digit numbers by additions. It is a very important and most difficult stage which enables the kid to build his personality and it's depending on the well-educated teachers who are very clever and smart enough to deal with kids in their early life and make him feel at home, all teachers in this stage are females.

3- Primary Schools
The student got confused when they move from Kindergarten to primary school as students are asked to write and do much homework. They also have to learn one more foreign language so the student can choose between French and Germany.  They can recognize part of there Egyptian History and the main organs of the Human body. Mathematics also is a very important subject during this stage.
Physical Education is very important during this stage also schools are cared about organizing trips for many places and sightseeing inside Egypt. The student spends 6 years to finish primary school then move to Preparatory School.

4- Preparatory Schools
It takes 3 years to finish and it's harder than primary schools student studies more subjects like geography, geometry, science, foreign languages and religion as well so the student can decide after finishing those three years which part he can choose in his secondary school.

5- Secondary Schools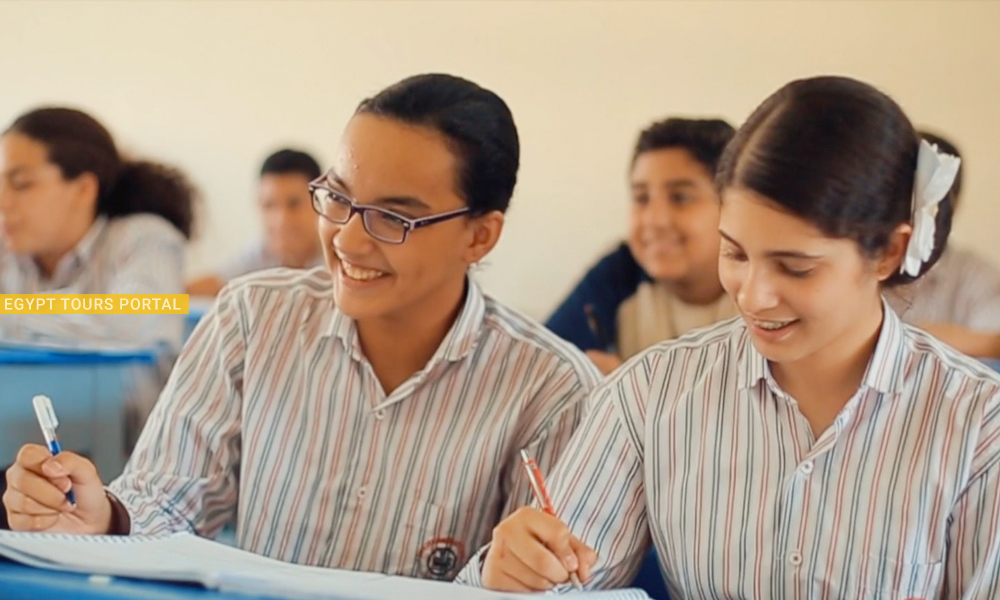 There are three types of upper secondary schools:
General secondary education schools.
Al-Azhar Secondary Education schools.
Technical Secondary schools.
General Secondary Education Schools
It offers academic programs in preparation for higher education. In the General Education sector, there are two streams that students can choose from: Scientific or Literary. Both streams include English and Arabic as mandatory subjects, in addition to streamed subjects as follows:
The Scientific Section: includes Mathematics, physics, biology, and chemistry, while the Literary section is including Arts, history, geography, and home economics.
Elective Subjects: include environmental sciences, social studies, national studies, philosophy, psychology, music, European languages. These subjects are chosen based on the student's intended tertiary-level specialization.
Schools also offer other European languages, generally French, Germany, Italian or Spanish. It takes three years also to be finished after those students can be ready to join one of the faculties they prefer.
Al Azhar Secondary Schools
It offers academic programs with an emphasis on Islamic religious instruction. The Ministry of education in Egypt reduced the number of secondary school years from 4 to 3 years in 1998, so as to make the Education in Al Azhar system appropriate with the general secondary education system.
Technical Secondary Schools
A different type of secondary school that offers technical and vocational programs where students specialize in one of three streams lasting three to five years: Technical, Industrial or Agricultural.

6- High Education (University)
In Egypt, we have about 42 universities 20 public universities with 2 million students and 22 are private which include about 1 million students the top university in Egypt is Cairo University which was established in 1902 by king Fouad the 1st. Education in Egypt is an important tool to get all our needs – it helps people to face the challenges of life.

Discover the Rich Landmarks that Shape the Education of Egypt
Are you looking for best school tours to explore what Egypt has to offer from ancient history, archaeology, architecture, anthropology, religion, and art. Then with "Egypt Tours Portal", all students will have an exciting, pleasurable and informative adventure through our Egypt private tours where you can visit best sites in Egypt such as the famous religious institute of Al Azhar, the enchanting schools of Khan El Khalili, and you can discover all the hidden information about education in ancient Egypt with an expert tour guide. Don't miss our chance and book us now: