The Do's and Don'ts of Egypt is a marvelous chance to explore Egypt with great ease. This article's main goal is to provide a clear explanation of all things that every traveler can do and not do in Egypt. This article was written by a group of Egyptian travel consultants, tour guides, and tour operators. The experience of witnessing the Wonders of ancient Egypt with your own eyes is a majestic phenomenon. The do's and don'ts of Egypt were written to help you have a more safe and relaxing journey across Egypt. Here is a list of the most important do's and don'ts of Egypt:
1. When in Egypt, you must respect all the archaeological monuments and sites by not touching, scratching, or sitting on them as they are what remains of the ancient Egyptian heritage.
2. You should dress correctly despite the fact that there is no specific dress code in the cities, it is known that women will feel much comfortable if they cover their shoulders and do not wear shorts, plus this becomes very relevant when visiting mosques and churches. You can read more about what to pack for Egypt.
3. Drink a lot of water and apply sun cream to stand the heat and the sun.
4. Despite the fact that hotels and main shops in the tourist areas would accept credit cards and foreign currencies, but smaller restaurants and stores are unlikely to do so especially when you go further into the tourist areas and the desert.
5. Buying souvenirs will be the highlight of your holiday as it will be a great reminder of your stay in Egypt where the most incredible collection of perfumes, jewelry, and handicrafts is made from alabaster, textile, glass.
6. Always carry your camera with you so you won't miss your amazing moment with your loved ones.
7. Always keep your professional tour guide and driver with you when you go on a desert excursion.
8. Always check the time of the ensa time lock during your Nile river cruise booking.
9. Don't miss your chance to attend a sound and light show in Luxor along with the archaeological spots through the Nile. 10. Keep your mind focused on having a good time and don't take long to return to Egypt.
What are The DO's and The DON'T's of traveling in Egypt?
The DO's:
Do spend time chatting with people.
Do learn some basic Egyptian Arabic during your trip.
Do ask when you don't understand something.
Do savor as much Egyptian food as you can.
Do make sure you try the delicious cuisines of Egypt.
Do stay in a central location.
Do dress modestly.
Do be careful of public displays of affection.
Do ask for directions from at least three different people.
Do ask for help when crossing busy streets.
Do take taxis rather than public transportation.
Do ask locals about the fare for your destination before taking a taxi.
Do avoid off-road destinations.
Do carry small change and coins.
Do leave tips in cafés, restaurants, hairdressers, shops and almost everywhere!
Do bargain in souvenir shops and bazaars.
Do respect Egyptian temples and monuments.
Do enjoy the country as much as you can.
The DON'T's:
Don't even think about renting a car unless you have driven in India or Egypt before.
Don't get frustrated when someone is late.
Don't wear shorts and vests or tank tops.
Don't talk to people who approach you in public areas.
Don't follow someone trying to "help" you.
Don't drink the tap water.
Don't drink alcohol in the street.
Don't be intimidated by market vendors.
Don't take photos of locals without permission.
Don't visit mosques during prayer time.
Don't be surprised to see Egyptian men holding hands.
Don't put your feet on a table or point the soles of your shoes at others.
Don't pet street dogs and cats.
Don't use drones in Egypt.
Entry and Departure in Egypt
All the visitors need a single-visit visa so they can enter Egypt. The Egyptian visa is valid for 90 days and obtaining one is very simple by applying for one at the Egyptian consulate in your country or purchasing a visa on arrival from the Egyptian airport if you belong to one of the countries accessible for a visa on arrival. All travelers must have a passport that is validated on the date of entry. Egypt like all other countries applies strict rules when bringing items like alcohol and cigarettes into the country so it's advisable to just buy them from an airport shop.
Activities to Do in Egypt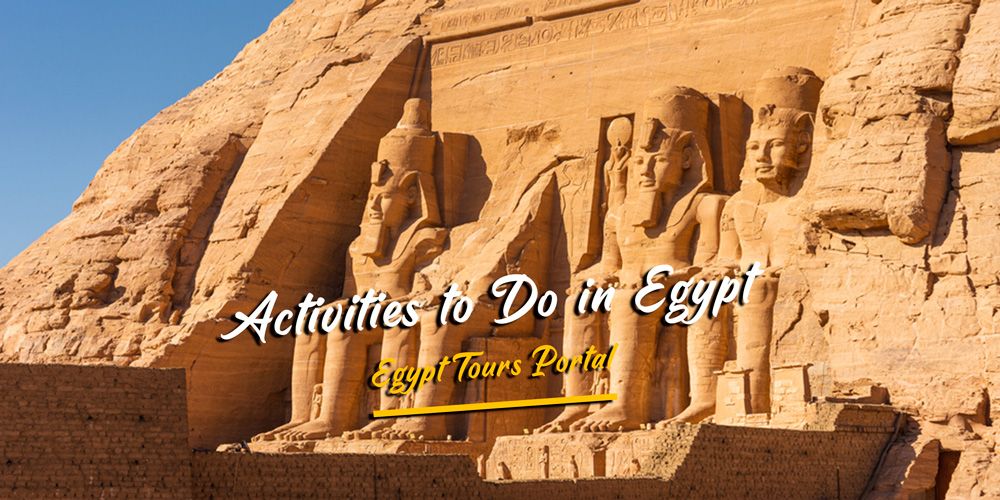 Across the Egyptian coast of the red are countless resorts such as Hurghada, Dahab, El Gouna, Marsa Alam, and Sharm el-Sheikh in Sinai which has become synonymous with aquatic activities like scuba diving and snorkeling plus a number of golf courses. Experience the Nile felucca or Nile cruise between Luxor and Aswan and explore the best ancient attractions like Abu Simbel temples and Karanak temples complex. In Cairo, there is a number of horse and camel riding experiences around the Giza pyramids complex. There is also the chance to go on organized hikes and safaris across the eastern desert.
Language of Egypt
The official and primary language in Egypt is Arabic and the most common foreign language in Egypt is English which is spoken in most of the tourist areas.
Health in Egypt
There are no vaccinations needed to be able to visit Egypt. Both dehydration and sunburn can be avoided by using plenty of sun cream, wearing a hat, light cotton clothing. You should have health insurance before coming to Egypt. all the health care facilities in Egypt are good.
Currency of Egypt
The main currency of Egypt is the Egyptian pound and cash can be obtained from ATMs very normally across all the towns and cities. All the big hotels and stores accept all kinds of credit cards like MasterCard and visa along with cheques and of course cash money from all foreign currencies like dollars and euros.
Climate of Egypt
Egypt weather is very vast and the weather can differ very considerably from the coast of the north in Alexandria till the further south in Luxor, Aswan, and Abu Simbel. The Nile valley stretches to about 1532 km and the climate across all that distance is very moderate with sunshine and very rainy days, unlike the desert areas that have higher temperatures. Average temperatures in Cairo are about 25-35°C (95°F), while in Aswan at 31-42°C (107.6°F) and in Luxor are 30-40°C (107.6°F). The best time to be in Egypt is in May, April, and in the winter months from august to march when the temperatures are much lower and in June and July, the climate is the hottest.
Transportation in Egypt
There are countless ways for transporting across the vast city of Cairo, as for the people who have a limited amount of time is to travel by air. There are also trains & long-distance buses which are the cheapest choices, but not as fast as airplanes. Travel within cities is best done by minibus, taxi, and private cars. Hiring a car with a private tour guide is always the best option if you have a tight schedule for all the sights inside a certain city. In Cairo, the subway or a private car is the fastest option. If you want to wander in the desert, you must have your tour guide at all times.
Time and Electricity in Egypt
The Egyptian time is two hours ahead of GMT except from the start of May and the end of September where it is three hours ahead until the end and beginning of British summertime. Egypt's electricity works on 220v with sockets being of the two-pin European mainland variety so it's always good to pack an adaptor if you carry a lot of electronic devices around.
Business Hours and Public Holidays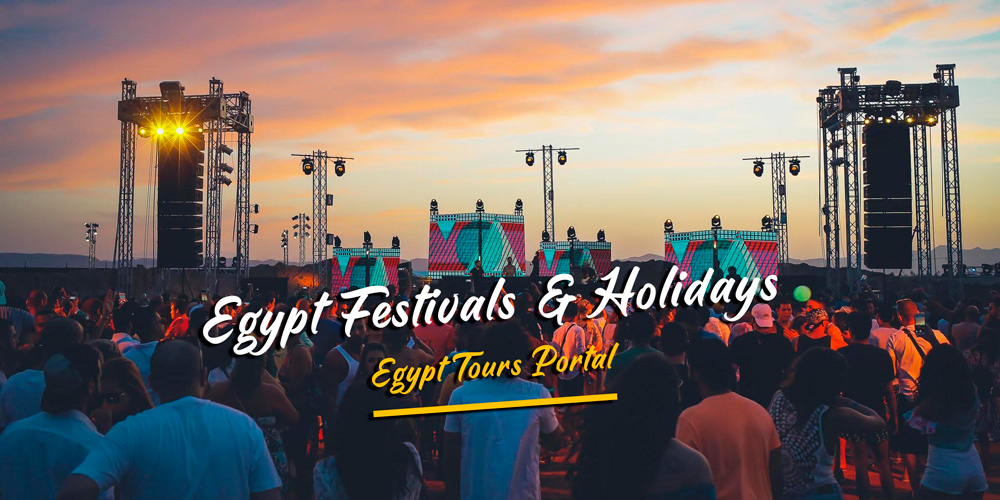 All the government, administrative offices, and banks are open from 9 are to 2 pm each day, except for Fridays, Saturdays, and public holidays. All historical and museums are open daily All the shops are open from 10 am to 10 pm every day except Sunday. In Ramadan, all these times can change. Here are famous festivals and public holidays in Egypt:
On January 7 "Coptic Christmas"
On May 1 "Labour Day".
On July 23 "Revolution Day".
On October 6 "Armed Forces Day".
The Islamic New Year.
The Birth of the Prophet and Ramadan.
Communications in Egypt
Egypt like any country has embraced internet services so it is easy to always be connected through the Wifi along with all the popular places in the country. The telephone system is efficient which can connect you anywhere in the world.
Enjoy Adventure Journey to Egypt
Step back in time and explore best places in Egypt through our Egypt holiday packages from UK, sail on the stream life of Egypt and enjoy one of our Nile river cruises between Luxor & Aswan, the chance between your hands just don't miss it and book us now.