Top Tips for traveling to Egypt as a Solo Woman are key pointers for every female traveler to experience to most comfortable and safest vacation in Egypt. This article's goal is to provide every woman traveler with all the key information to enjoy the best tour in Egypt. This article was written by ETP team who is a highly expert group of tour operators and tour guides who understand how women can stay safe during their time in Egypt.
Every female traveler will find a number of beautiful destinations to explore such as Cairo, Alexandria, Luxor, Aswan, Sinia, Hurghada, and more hidden gems. Egypt is a piece of heaven made for people who appreciate the value of history, culture, and immortal beauty plus it offers the chance for solo female travelers to feel empowered when they gaze at the history and great constructions made by Egyptian women.
Many women will as the golden question "Is it safe for a woman to travel to Egypt alone?" And the answer will always be yes since Egypt is one of the safest travel destinations in the world right now, due to the low crime level when compared with the crime rates of many Western countries and strong policies to protect privacy and ensure the safety of all the women both foreign and domestic across the lands of Egypt.
Plus, In Mid 2021 world Health Organization places Egypt at the lowest level of coronavirus spread Risk across the world due to the measures taken by the Egyptian government that helped control the spread of the virus and ensure the safety of each traveler such as the cleansing of all the visited attractions on a daily basis which help record the lowest number of infections and the highest number of recovery cases.
A single woman traveler will always find what she is looking for between the great destination of Egypt both ancient and new and create some amazing joyful memories that will remain to the end of time so here are a few answers for the most common questions about traveling to Egypt as a solo woman and some safety guidelines to know in order to make your adventure a one to remember.
What are the Top Tips for Female Women Travelers in Egypt?
Hiring a travel agency during your tour in Egypt is the safest for a solo woman traveler.
Dress appropriately by covering your shoulders and knees. Wear a long skirt or pants or a t-shirt but keep in mind that a long-sleeved shirt is more ideal and Keep a scarf ready for visiting mosques and religious sites.
Always sit in the back seat of taxis, and stay alert. Arrange drivers and taxis through your Travel agency or use Uber.
Even friendly conversation can sometimes be interpreted as flirting; avoid engaging if you don't feel comfortable, even if it feels impolite. Likewise, politely decline selfie requests if you're not comfortable.
Do not accept invitations from friendly strangers.
Do not eat, drink anything, not even water, or smoke in public during Ramadan, which is considered impolite.
Trust your instincts.
Wearing a wedding ring or inventing a husband and children may help you to avoid unwanted attention.
Bring your own sanitary products.
Leave your itinerary with a trusted friend or family member at home.
1- Will I be Harassed in Egypt?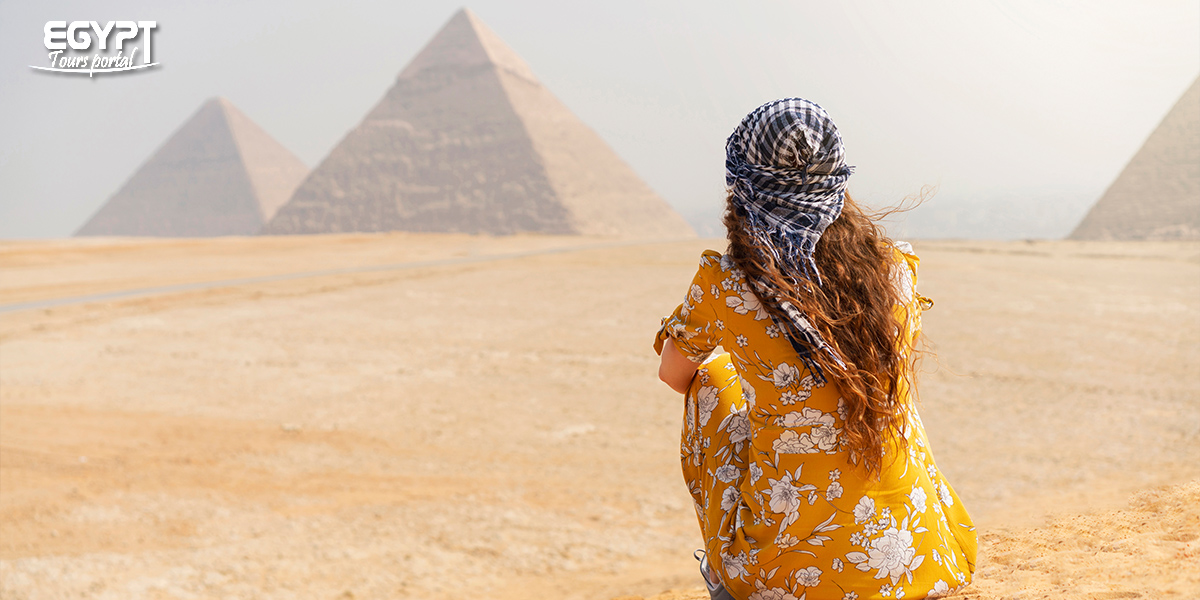 Unfortunately, harassment is a universal phenomenon that happens to be in Egypt also so you might face some minor verbal abuse so you have to be careful and the best way to deal with it is simply ignore it and move on with your tour and if you feel concerned the tourism police will be always by your side.
How to Deal With Harassment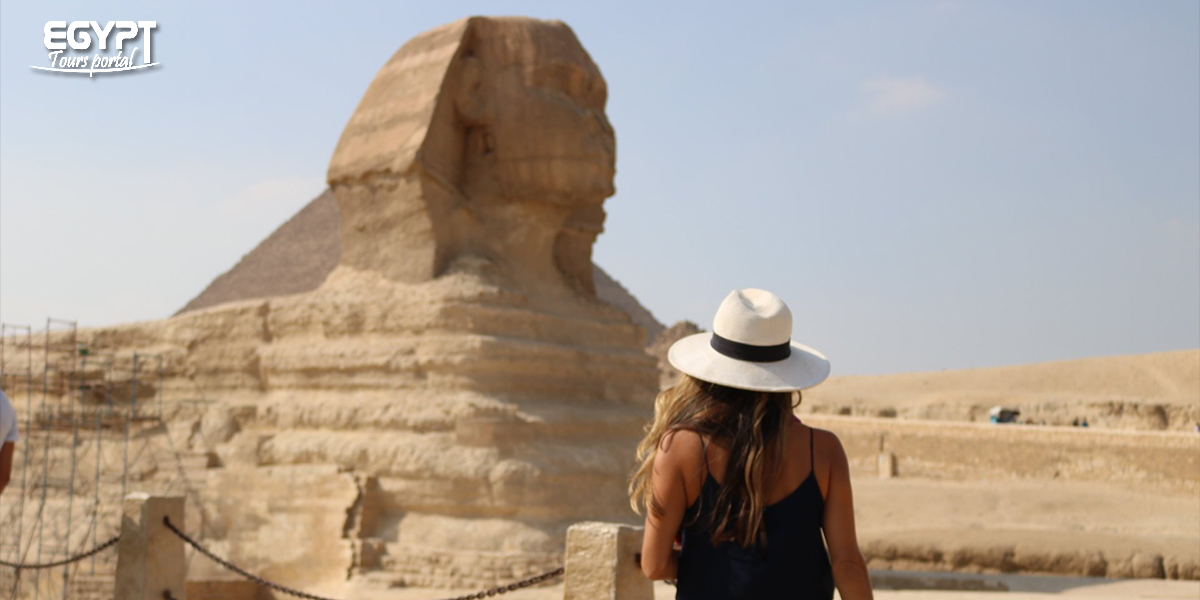 You simply don't give it any attention and move on with your day and if the harasser is persistent you can shout and ask for help from the police. That's why it is good to have a tour guide with you at all the times who will keep away any kind of discomfort or harassment.
To Tour or Not to Tour
It is a good idea for women travelers to travel in packs as safety is in numbers. Tours are a chance to explore all the desired highlights of Egypt in an organized timely fashion. Tours give the full freedom to explore and have less interaction with locals.
Places to Avoid … and Not to Avoid
Cairo and Luxor at night is the place to be as the heat fizzles out and many families stroll to the streets where all the hidden beauty of the city rises which offers the ultimate unexpected pleasure for all of the female travelers. Most of Egypt's budget hotels are fine for solo women so make sure to stay in a hotel fully rated and comfortable before making any step.
How to Get Around Egypt as a Female Traveler
For female travelers can use either taxi or Uber & Careem because there isn't any difference between the two in safety. Both Cairo and Alexandria are easy to get around because of the numerous ways of transportation at cheap prices. Always seat in the back seat if you used a taxi or uber and if you used a metro ride the women-only carriages. On all the other public transportations always sit next to a woman.
What to Wear in Egypt as a Solo Girl
Dress Conservatively since Modesty is the best Virtue the key to receiving good treatment and respect.
"What to wear while being in Egypt?" is a very important question and the answer is that It is advised to always dress modestly while traveling across Egypt as the nature of Egypt is a bit conservative so always cover your knees, upper arms, and cleavage. When you are about to visit or enter the mosque cover down your ankles and wrists and put a headscarf on your head to cover your hair save all the shorts and singlet for the beach.
Find Yourself a Safe Hotel: A Home Away from Home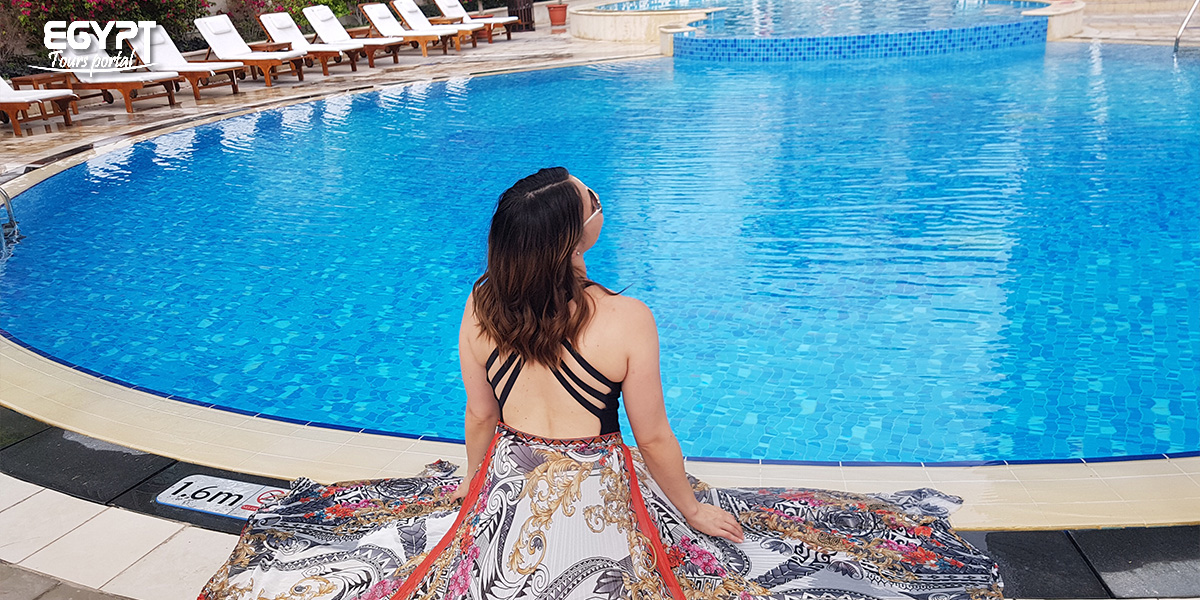 Hotels are the best places to stay in as all the entrances are security checked and secure so pick a high-rated hotel before traveling to Egypt which can become your second home while traveling. Always carry your hotel business information when you are out in case you got lost and want to get home and your Arabic isn't good.
Book Local Female Guides
It is always good to have a local female tour guide with you while traveling across Egypt. It is always better to be accompanied by a trusted local guide than being alone who will provide the most incredible details about Egyptian history. The key to hiring a good female guide is booking a travel agency which will guarantee its level of excellent service.
Mark Your Territory
Be Aware of your surroundings & plan every step, it is always wise to learn the full details and information about the places you will be visiting not only on the internet but also on the ground by exploring the government sites, travel blogs, and public forums to learn about the concerned places. Learn the names of the tourist place you intend or going to visit learn some Arabic world like:
Salam or Marhaba: Hello
Bettkalm Ingleezi? : Do you speak English?
Jameel : Beautiful
Ismi…: My name is…
Shukran : Thank you
Afwan: You are welcome (Reply to Shukran)
Em'shee (go away)
Lu Samaht (excuse me)
Aiwa (yes), laa (no), Yalla (lets go)
Min Fudlak (please
Book Your Egypt Tour Now
With its unique ancient history, historical artifacts, cultural adventures, and countless activities to do from dusk till dawn, Egypt is where you can sense the old, the new, and everything in between.
In order to experience everything Egypt has to offer, you can check our Egypt holiday tours from the UK and Nile river cruises and seize the chance to witness all the beautiful gems in the timeless cities Cairo, Alexandria, Luxor, and Aswan.