How to plan a family vacation in Egypt is a highly important question that will determine the fate of each vacation trip in Egypt. The main goal of this article is to provide every family with all the information and details needed to enjoy the best family vacation in Egypt.  All the information and facts in this article were written by a group of very skilled and expert tour operators, tour guides, and travel consultants who have more than two decades of experience in customizing the most ideal and fitting family vacation trip in Egypt.
Many parents, especially those who are always very keen on travel and exploration, tend to instill the sense of travel, exploration, and curiosity in their young children at a very early age so they start to plan for blissful trips and adventures, accompanied by their little kids to support and encourage their attitudes and feelings towards travel and exploring a different culture that will better their character. Booking an Egyptian travel agency will make your vacation more excellent and comfortable as it will handle all the accommodation, transportations, tour guides, and every other detail concerning your vacation in Egypt.
Egypt family holidays are the ideal option for those who love to spend a holiday with the family where the children step back in time and imagine as if they lived in the pharaohs' era, once they visit the best historical sightseeing in Egypt. Regardless of their interests; exploring the ancient heritage, boarding the Nile River cruise, or brisk on the Red Sea, your children will have the possibility to enjoy the maximum level of entertainment and excitement. Be always trustful that it is a phenomenal experience that suits your child's needs plus both the young and old will enjoy it a lot as well. Here are steps for planning a perfect family vacation in Egypt:
What's Important about Traveling with Children to Egypt?
Children at young ages often need to promote their awareness and broaden their knowledge about the outside world, so parents have to make their kids interact with a foreign milieu, new people from different backgrounds, a different language, and strange cultures and traditions. As travel forms the child's personality, Egypt's family vacations encourage children to enjoy a luxury experience and provide parents with safe adventures. In Egypt, for example, your children will have the ability to make acquaintance with the Egyptian culture and its reflection on people's customs and attitudes and learn how this culture contributed to erecting the immortal Pharaonic Civilization.
Open your children's eyes to the most ancient sights in Egypt which contain millions of precious treasures from more than 4500 years ago, give them the chance to imagine the pharaohs' periods as if they were watching an animated or cartoon movie. A family trip to Egypt is the best way for kids to hang around the Egyptian public, be in touch with them, try their food, and observe their lifestyle. Also, many ripping activities in Egypt are available for your whole family for the old and young alike.
Procedures Must be Considered While Arranging Family Tour to Egypt
It's really necessary for parents to arrange very well for their tours and must keep their customized trip itineraries in mind to meet the requirements of their young. It's also a must to know the conditions of the country you wish to visit and its seasonal climate for the sake of your child's security before departing your country. For instance, if you or your child or any member of your family suffers from allergic or any diseases related to hot dry weather, then you can't book Egypt tours in summer and it's preferable to postpone your visit to Egypt to the winter months when it becomes cool and humid. Parents also must be sure that their children will spend a long time under the sunlight while touring Egypt tourist attractions, your children will be affected badly if they can't adapt to the extreme heat of the sun. Another point that must be regarded when taking a family trip to Egypt is how to look after the child's health and how to protect them from widespread infectious viruses. Accordingly, Parents must take all medical prevention measures, and all family members, particularly the kids have to be safely vaccinated against diseases and germs.
Best Remarkable Sightseeing in Egypt Suit for Family Holidays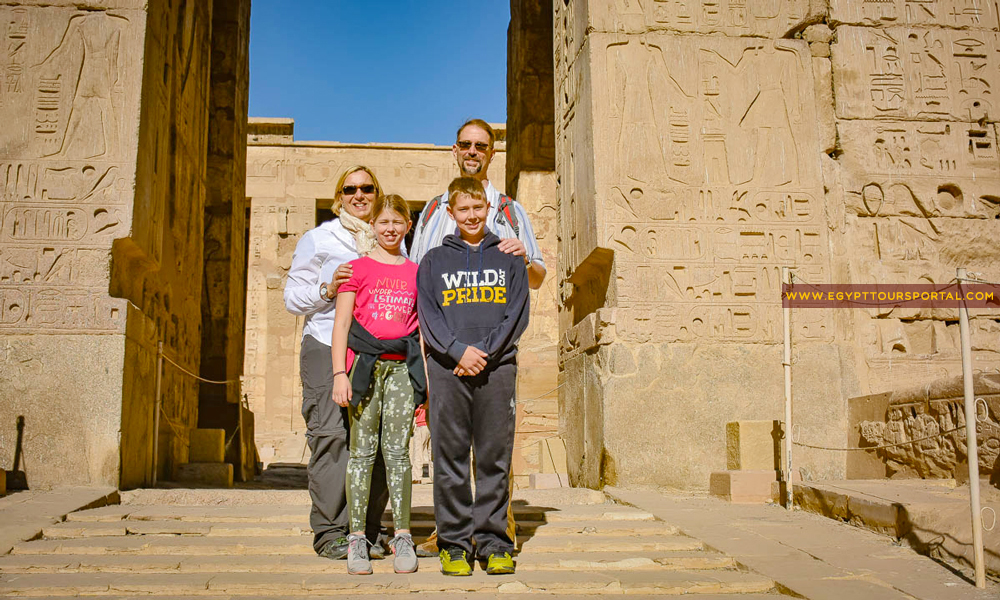 Make Egypt your gateway to the ancient world and discover the most well-known monumental sites in the land of pharaohs. Discover the pharaonic miracles in Giza Pyramids and the Great Sphinx, be a faithful witness to King Tutankhamun collection, and many thousands of elegant artifacts in the Egyptian Museum. Scout Egypt Islamic history in the immune fortress of Salah El Din Citadel that holds Mohammed Ali mosque. Go back in time again in Luxor and Aswan where the ancestors largely settled down on the banks of the Nile and constructed over two-thirds of their glory. Here are the gorgeous tombs that included hundreds of mummies, jewelry, and priceless objects that belong to the immortal Kings, Queens, and priests. Also, create lifetime memories in the majestic temples which had witnessed the religious ceremonies of the pharaohs and their ennoblement to their deities. Immerse yourself in the splendid Nile River between Luxor and Aswan on board luxury Egypt Nile cruises to admire the sublime landscapes of the Nile Valley. Another suggestion you can try during your stay in Egypt is brisk on the Red Sea shores, and perform some water sports like diving and snorkeling.
Available Activities for Children in Egypt
Regardless of visiting ancient attractions, many other recommendations are valid for your children to try in Egypt. At first, they can go on shopping tours in Old Cairo districts and have a stroll through the small markets and alleys to buy some marvelous presents and souvenirs. This experience will make an everlasting amazing reflection on all the family members. Have a bit of adventure and try some of the healthy Egyptian dishes at local restaurants with your family. On the sandy coasts of the Red Sea, it's advisable to experience some water activities, have the ability to snorkel and dive safely under the sea surface with your professional instructor and live in the world of fantasy with the colorful fish, sea turtles, and many of the unfamiliar aquatic creatures which ramble among the marvelous coral reefs. One additional activity is to conquer the desert on safari trips by quads in a safe promenade with your family and record timeless memories.
Enjoy Memorable Family Holidays with "Egypt Tours Portal"
Our Egypt Family Holiday tours from UK provide all means of security for you and your family during your stay in Egypt in 5* luxury hotels for accommodation with the most luxurious service while exploring all of Egypt's historical destinations which are equipped with highly qualified security staff. In order to enjoy more comfort, we have to offer air-conditioned secure vehicles with professional drivers while touring the best of Egypt. Another advantage of a family trip to Egypt is our expert Egyptologist tour guides that accompanied you and your family all the time from the moment of your arrival until your departure. Create wonderful memories with your family by checking the tours below: